Visit to Istanbul
September 8, 2024. (Sunday) 9:30~17:00

(The following places are for reference, and the final schedule should be adjusted to the actual notice. Lunch is at your own expense)
Hagia Sophia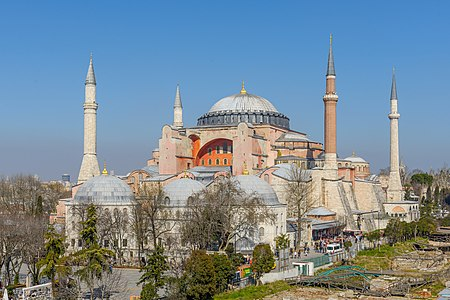 Hagia Sophia, officially the Hagia Sophia Grand Mosque (Turkish: Ayasofya Camii), is a mosque and major cultural and historical site in Istanbul, Turkey. The building was erected three times by the Eastern Roman Empire. The present Hagia Sophia is the third, built in 537 AD. It was an Orthodox church until the Ottoman conquest of Istanbul in 1453, then a mosque until 1935, then a museum and then from 2020 a mosque again, as well as being a Roman Catholic cathedral for some decades after the Fourth Crusade of 1204.
Blue Mosque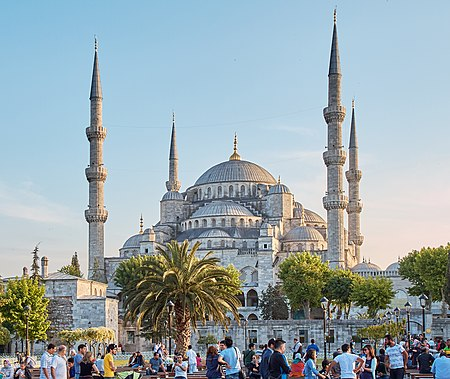 The Blue Mosque in Istanbul, also known by its official name, the Sultan Ahmed Mosque, is an Ottoman-era historical imperial mosque located in Istanbul, Turkey. A functioning mosque, it also attracts large numbers of tourist visitors. It was constructed between 1609 and 1616 during the rule of Ahmed I. Its Külliye contains Ahmed's tomb, a madrasah and a hospice. Hand-painted blue tiles adorn the mosque's interior walls, and at night the mosque is bathed in blue as lights frame the mosque's five main domes, six minarets and eight secondary domes. It sits next to the Hagia Sophia, the principal mosque of Istanbul until the Blue Mosque's construction and another popular tourist site. The Blue Mosque was included in the UNESCO World Heritage Site list in 1985 under the name of "Historic Areas of Istanbul".
Grand Bazaar
The Grand Bazaar in Istanbul is one of the largest and oldest covered markets in the world, with 61 covered streets and over 4,000 shops on a total area of 30,700 m2, attracting between 250,000 and 400,000 visitors daily. In 2014, it was listed No.1 among the world's most-visited tourist attractions with 91,250,000 annual visitors. The Grand Bazaar at Istanbul is often regarded as one of the first shopping malls of the world.